.

NEWS....
Joy B Band received 2 WAMA (Washington Area Music Awards) Nominations:
Best Roots Rock Duo/Group - Joy B Band
Best Roots Rock Recording - Just Livin'

According to the Roots Music Report our CD
JUST LIVIN' was the #1 CD in sub genre Folk in Maryland and in the top 20 for the country AND... Up Down and Sideways was #2 nationally AND Open Road was #1 song Folk Genre for the country for over three weeks!

Thank you all for your support!



The Joy B Band plays a tapestry of classic and contemporary blues, country, rock, and jazz in a soulful and sophisticated manner.

The Joy B Band is proud to announce the release of our first CD, Just Livin'. Many thanks to our fans, friends and families for making this possible! For song samples visit our CD Baby page.

Contact us:
info@joybband.com
JoyBBand:
Joy Bodycomb - vocals
Dave Long - Guitar
Steve Carey - Bass
Chip Clemmer - Drums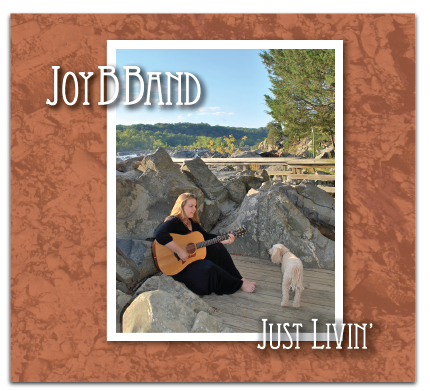 Purchase through CD Baby!
Musicians who contributed their incredible talents to this project include: Liz Lohr, piano; David Gorozdos, keyboards; Michael Tash, guitar; Ray Tilkens, guitar; and Dan Frolich, vocals.

We recorded and mixed the CD at Ray Tilkens' studio, Ambient Recording.



Mastering was done by Grammy Award winning mastering engineer Bill Wolf at Wolf Productions.



Thank you Kate Courville for your photography and Deb Smith for your graphic design skills. Both of you
made this product exceptional!
*